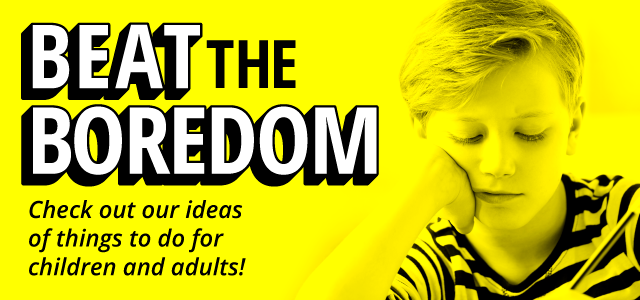 Beat the Boredom
With schools, restaurants, and many businesses closed, there's a lot of people stuck at home looking for something to do. Here are some suggestions about things to do while you're stuck at home!
FOR KIDS
Board games & Puzzles. You might have a closet with board games that haven't been played in a while, it's a great time to break them out again!
Brooklyn Public Library is offering a virtual storytime. 
Boston Children's Museum offers a virtual tour
California Science Center has "Stuck at Home Science" experiments that you can do with the kids. 
Cincinnati Zoo has a daily facebook live with animals and their zoo trainers. 
GoNoodle will get the kids moving with fun videos to keep them entertained
Great Wall of China offers a virtual tour.
Houston Zoo offers live webcams of the animals
The Louvre Museum in Paris offers a virtual tour for alt-lovers.
Lunch Doodles with Mo Willems is another art livestream where Mo will sit down to draw a doodle with you and your kids.
MARS Curiosity!  Explore the surface of Mars!
Monterey Bay Aquarium offers live webcams of the animals
San Diego Zoo has a website just for kids with games, activities, live webcams, and videos. 
US Space and Rocket Museum offers a virtual tour.
Yellowstone National Park has virtual field trips. 
Zoo Atlanta offer live webcams of the animals.
FOR ADULTS
2020 Census You may have received your 2020 census packet in the mail, now's a good time to sit down and fill it all out! 
Clean Your Vehicle. How often do we get the time to give our cars a good cleaning, inside and out?
Clean Your Phone. We're talking inside and out. Clean our old files, messages, apps, and photos that you no longer want. And keep the outside clean and sanitized, too!
Cooking. You may have stocked up, it's a good time to get creative and try something new, or something you don't normally have time to make.
Learn a new language.  Start learning a new language for free with Duolingo
Movies with friends from home. Netflix Party allows you to link other people, or just your own group to watch movies together! 
Yard projects.  When the weather is cooperating, get the family involved! Rake leaves, pick up sticks, pick up trash, or maybe start a family garden!  Don't want to go shopping for the supplies yet? Work on laying the foundation and planning out what you want in your garden!